Good Ingredients
For our biggest Sugar Free Spearmint Gum fans, this bulk pack contains more than 3 times as much gum as our regular sized packs (55 pieces versus 15 pieces). This oversized pack is perfect for keeping at your desk or in the car so you'll never run out of gum when you need it! 
Made with xylitol, our new Sugar-Free Spearmint gum has the same refreshing, minty flavor as our original, but without the sugar. 

Pack of 6 (55 Pieces each).
| Amount/Serving | %DV* | Amount/Serving | %DV* |
| --- | --- | --- | --- |
| Total Fat 0g | 0% | Total carb. 2g | 1% |
| Sodium 0mg | 0% | Sugars 0g Sugar Alcohol 2g | 2% |
| Protein 0g | 0% | Dietary Fibers 0g | 0% |
Not a significant source of other nutrients. Percent Daily Values based on a 2,000 calorie diet.
---
Serving Size: 2pc | Servings: About 27 | 0 Calories per serving
Ingredients: Plant-based Xylitol, Natural Chicle Base (chicle tree sap, candelilla wax, citric acid), Spearmint Oil, Organic Vegetable Glycerin, Gum Arabic, Organic Rice Flour
We like to tell it how it is
No hidden agendas or ingredients. Here are some things you can expect from us:
Kosher
Our gum and mints are Kosher certified.
Vegan Certified
Our gum and mints are certified vegan by Vegan.org
Non-GMO Certified
Our gum and mints are Non-GMO verified by the Non-GMO project.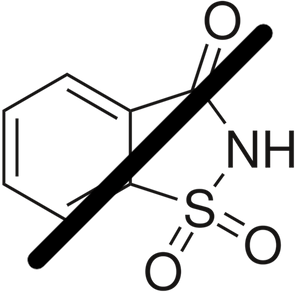 No Artificial Sweeteners
You won't find any fake ingredients, such as aspartame, in our gum or mints. Just organic sugar cane.
Plastic Free
Conventional gums list "Gum Base" as an ingredient- that's code for plastic. Instead of plastic, we use chicle, a sustainable tree sap that we source from Central America.
Synthetic Free
Here is some of the synthetic stuff that is in conventional gum: polyisobutylene, polyvinyl acetate, and butylated hydroxytoluene. You won't find any of these substances - or any other synthetics - in our gum.   
Made in the USA
Our gum is made in the USA, proudly manufactured in our Brooklyn, NY facility.
Biodegradable
Tree sap is biodegradable. Plastic is not.