Good Ingredients
Refreshing and subtly sweet, our natural Peppermint chewing gum is simply delicious. We've been told that it's an on-the-go essential, perfect to grab before a meeting, after lunch, or when you need a little kick.
Non GMO Certified, Vegan Certified, Kosher Certified, Aspartame Free, Xylitol Free, Dairy Free, Gluten Free, Nut Free, and Soy Free.
Nutrition Facts
| Amount/Serving | %DV* | Amount/Serving | %DV* |
| --- | --- | --- | --- |
| Total Fat 0g | 0% | Total carb. 1g | 1% |
| Sodium 0mg | 0% | Sugars 1g | 2% |
| Protein 0g | 0% | Dietary Fibers 0g | 0% |
Not a significant source of other nutrients. Percent Daily Values based on a 2,000 calorie diet.
---
Serving Size: 1pc | Servings: 15 | 3 Calories per piece
Ingredients: Organic Raw Cane Sugar, Natural Chicle Base, Natural Peppermint Oil, Organic Vegetable Glycerin, Organic Rice Flour
We like to tell it how it is
No hidden agendas or ingredients. Here are some things you can expect from us:
Kosher
Our gum and mints are Kosher certified.
Vegan Certified
Our gum and mints are certified vegan by Vegan.org
Non-GMO Certified
Our gum and mints are Non-GMO verified by the Non-GMO project.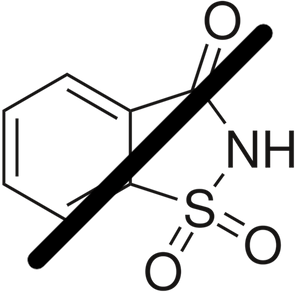 No Artificial Sweeteners
You won't find any fake ingredients, such as aspartame, in our gum or mints. Just organic sugar cane.
Plastic Free
Conventional gums list "Gum Base" as an ingredient- that's code for plastic. Instead of plastic, we use chicle, a sustainable tree sap that we source from Central America.
Synthetic Free
Here is some of the synthetic stuff that is in conventional gum: polyisobutylene, polyvinyl acetate, and butylated hydroxytoluene. You won't find any of these substances - or any other synthetics - in our gum.   
Made in the USA
Our gum is made in the USA, proudly manufactured in our Brooklyn, NY facility.
Biodegradable
Tree sap is biodegradable. Plastic is not.